Dropped composite door repaired by The Window Wizard, including composite door realignment plus repairing composite door multipoint locking system.
Do you have a dropped composite door that is difficult to shut or lock? Likewise are you having trouble opening the door? Do you need to take the weight of the door upon the handle, to enable the door to open? We offer composite door realignment and adjusting so that your door opens, closes and locks smoothly. Call David, The Window Wizard to adjust and realign your composite door. We have a fixed set price also a free quotation over the phone. Book your double glazed repair appointment now 0208 310 4193 or email us on our Contact Us form.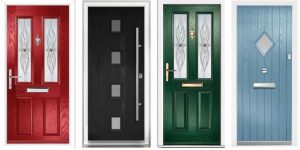 David is a double glazing lock specialist, with City & Guilds advanced. Therefore you can be confident that you have a professional, who has experience in composite door realignment and repairs. Because we only repair and do not install, we make it our priority to fix your door.
We are a family run business based in Bexleyheath, Kent covering Bexley, Dartford, Swanley, Abbey Wood, Welling, Erith, Wilmington, Eltham, Belvedere and Sidcup. Most importantly you will always have David as your repairer. Furthermore, The Window Wizard is a registered trade mark therefore, we are not a franchise.
The Window Wizard is a composite door lock specialist, repairing or replacing broken multipoint locking systems
Has your composite front door jammed shut and you can't open the door? Call David The Window Wizard now if your composite front door lock is jammed shut. All fixed prices are given on the phone and no payment is taken upfront, unlike most Locksmiths. We will open your door without any damage and then repair or replaced your faulty multipoint lock. We offer a local double glazing service that you can trust, without the need to replace your composite door. Please Click here to read more about our door lock service.
Some composite doors use the same multi point locking mechanism as UPVC front doors, due to the extra weight of a composite door, it is very important that the door operates smoothly reducing the wear on the handles and multi point locking system.
Are you having problems with your composite door handle?
Does your composite door suffer from stiff door handles? Or a key that is difficult to turn this also an indications of a dropped door. Call The Window Wizard to adjust your door for a fixed fee. Prevention is better than cure, if you leave your door un-adjusted it can cause your multi point lock to break. It is always best to have the door realigned or adjusted before the lock fails, possibly locking you outside.
Composite lock cylinders
If you have just moved into the property we can change the key cylinder which is supplied with 3 new keys. Furthermore giving you peace of mind that nobody else has access to your property. In addition you can upgrade you standard Euro cylinder to an extra security barrel. This would include a lock cylinder featuring anti bump, anti drill, anti pick, anti snap providing you with an extra level of security. Please click here for our services and extra security cylinder upgrade.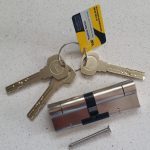 We can also supply and fit a thumb turn door lock cylinder to your composite door for extra convenience.
Why has my composite door dropped and difficult to operate?
Many Composite doors are misaligned due to poor installation or just the fact that they are extra heavy doors. An indication that your door has become misaligned would be excess rubbing along the closing edge or the handle becoming stiff to operate.
Another common issue found with composite doors is due to their extra weight, they drop causing them to rub along the bottom edge of the door or threshold. A Composite door realignment can fix this problem.
Most composite doors are square edged, so are required to touch the brush seals to make them draft proof, a misaligned door would most likely be drafty, due to not making contact with the frame seals.
The Window Wizard can realign your composite door, so that it operates more smoothly and does not allow any drafts into your property.
What is a Composite door?
Composite doors are the latest type of double glazed door used in homes. Furthermore offering an alternative to the traditional Wooden, UPVC Plastic and Aluminium door.
A composite door is constructed from materials such as fibreglass, PVC, wood, metal and insulating foam core.
Composite doors are designed to give an authentic timber door appearance, due to their high definition panel design and wood grain effect.
How many years have composite doors been around for?
Composite doors have been around for the last 15 to 20 years depending on the make and model of the door. However, composite doors have become more popular in the last 5 years or so. This could be due to more company's manufacturing the product and driving the price down. Thus making composite doors more affordable.

What are the advantages of a composite door?
Composite doors should not require any maintenance such as painting or varnishing.
Unlike wooden doors a composite door are less affected by variations in temperature.
Composite doors are available in a vast range of colours.
Unlike UPVC doors, composite doors do not rely on unsightly and visible black gasket seals.
A composite door is the latest trend and uses the most up to date multipoint locking systems.
Made of extremely high-quality, moreover a composite front door looks very stylish.
What are the disadvantages of a composite door?
A dropped composite door is a common fault however, this can be fixed.
Composite doors tend to have less adjustments compared to a UPVC double glazed door.
They tend to be more expensive than a UPVC, Wooden door when supplied and fitted.
The multi point locking systems can be more difficult to repair or source the parts.
Unfortunately if a composite door has not been installed correctly then it is almost impossible to adjust and realign the composite door to work correctly. Therefore the entire door would need to be taken out and reinstalled.
A composite door does not operate as smoothly as a UPVC door due to having a square edge that rubs the brush strips around the frame.
Updating or changing your composite door handles and or letterbox.
We can supply and fit new style or colour door handles and or letterbox onto your composite door giving a new fresh appearance and feel.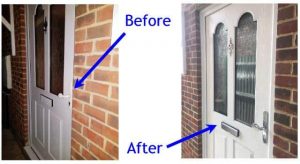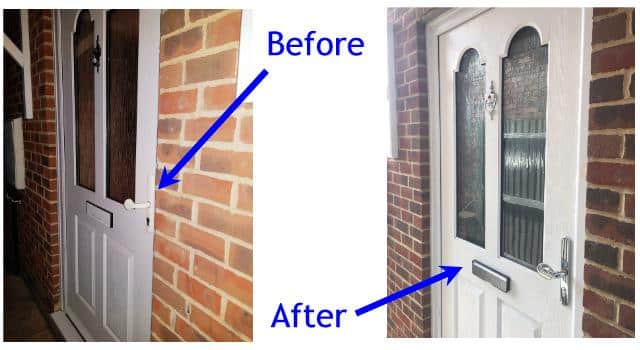 Composite doors tend to have slightly different furniture fitted to them compared to the more traditional UPVC doors.
We have supply and fit composite door furniture such as, handles and letterboxes in most styles and colours.
Damaged weather seals around the door frame sould be refitted or replaced.
For a dropped composite door realignment call The Window Wizard
Don't wait until your door lock breaks call David now on to repair or adjust your dropped composite door. In addition all our prices are fixed and given over the phone for your peace of mind. Furthermore a composite door realignment is carried out in a single visit.
Contact us and call David or Clare now for a Free quotation on 020 8310 4193.
Or Alternatively you can contact us by Text, WhatsApp, Viber or email.
The Window Wizard – Call: 020 8310 4193 – Mobile: 079 5058 2631
Summary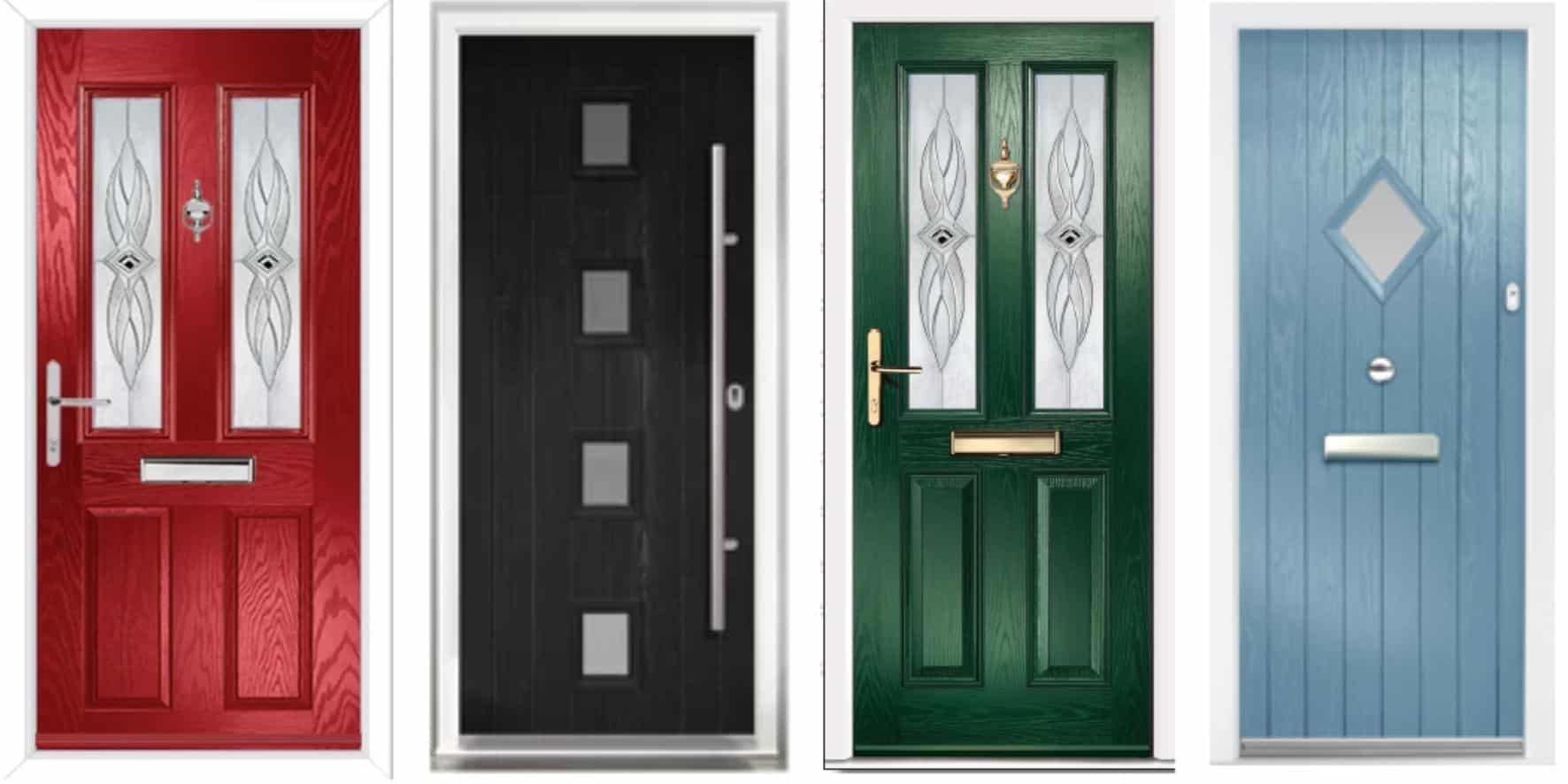 Service Type
Dropped Composite Door Realignment, multi point lock repair and replacement door handles
Provider Name
The Window Wizard
,
The Quadrant
,
Bexleyheath
,
Kent
-
DA7
,
Telephone No.02083104193
Area covered
Bexleyheath, Dartford, Crayford, Swanley, Welling, Wilmington, Thamesmead, Sidcup, Erith, Barnehurst, Bexley, Belvedere, Blackfen, Eltham
Description
Specialist in dropped composite doors realigned, locks repaired or replaced. Jammed doors opened and fixed, wobbly handles renewed, broken letterbox replaced. Anti-Snap, Anti-Pick, Anti-Bump, Anti-Drill extra security key cylinders fitted.