Double Glazing Window Locks Repairs – Jammed Windows opened- Locking Window Mechanism replacement

A specialist Window Doctor offering affordable Double Glazed Window Lock Repairs locally. From a faulty locking window mechanism to a jammed window we are here to fix all your double glazing window problems.
We offer an affordable double glazing window repair service, unlike costly and inconvenient installation of new windows. Please call our friendly expert, for a free quotation to have your broken window hinges replaced. Our services also include: replacing locking window mechanism & window handles, whilst also opening jammed windows. Not to mention our wealth of experience and expertise, a Window Doctor who can fix your jammed UPVC window lock. Without causing any damage to your window framework. Furthermore, we can facilitate small jobs such as replacing window handles and window hinges.  Our notably fast and cost effective double glazing window repair service is reliable and quality focused.
Broken Window Hinges
The most common window repairs, are often broken window hinges that need replacing. Typically only one window hinge may be broken. Nevertheless when replacing broken window hinges, I always replace both hinges. Typical broken window hinge problems include; broken plastic slider, bent brackets, worn pivot points, sheared and lose fixing points.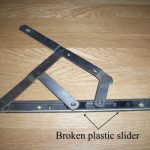 As a Window Doctor we stock all different size window hinges, of different lengths, stack heights and widths, together with top and side hung hinges. Within the Van we carry all types of window hinges subsequently allowing your repair to be completed in one visit for your convenience. Additionally, we also stock specialist hinges for example: child restricted hinges, fire escape hinges and easy clean hinges.
Please call The Window Wizard to arrange a visit to replace your broken window hinges.
Jammed Windows Opened
If your window is jammed shut or your locking mechanism has broken, in the locked position. We can open your window with no damage to the framework. The Window Wizard is equipped with specialist tools and years or expert knowledge, to open your jammed windows. Some jammed windows can be repaired. However, some jammed windows will require a new locking mechanism fitted. Call our expert technician David for a fixed price to repair your jammed windows.
Drafty UPVC Windows and Gaps
If your windows are not closing tightly and have large gaps letting in drafts. We can replace your existing broken hinges with new hinges.
Moreover if you are having problems locking your window handles? It could be due to hinge misalignment or dropped hinges.
How to check for gaps in your windows: Insert a piece of printer paper around the perimeter of the frame and window and push it through the gap. If this is possible, then you will need a new set of hinges to fix your gap and draft problem.

Double Glazed Window Lock Repairs & Locking Window Mechanism
Most UPVC windows use an internal locking window mechanism or gearbox that is operated via a single central handle. Both gearboxes and mechanism can break in the locked or unlocked position. This leaves you unable to open or secure your window. However we offer an affordable locksmith service, to unlock your jammed window. Most importantly, without causing any damage to your UPVC window frame. Even if your mechanism is discontinued. As a Window Doctor we can convert your locking window mechanism to an updated window mechanism.
Window Handles
We stock many types, styles and colours of double glazed window handles. If your window handle is spinning around or completely broken off we can help. Loose or wobbly handles can be re-fixed or replaced in a single visit. Additionally, we can offer a modern style of window handle to rejuvenate your window's appearance, including changing your window handle finish to suit your room decor.

Lost or Broken Window Keys
If you have lost or broken your window key we can help. Our large selection of window keys allows us to identify and supply you a new window key in a single visit. Additionally, David carries all the specialist tools require to extract broken keys from double glazed window handles or locks. No matter how old your window locks are, we always can offer a cost effective solution. Please call your Local Window Expert, for any double glazing window repair.

Tilt & Turn Window Repairs
The Window Wizard specialises in Tilt & Turn window repairs, as well as the older style Turn & Tilt windows. Above all, it is important that customers only use qualified repairers, to fix their Tilt &Turn windows, as they are a complex system. We have been asked by lots customers to fix a Tilt & Turn window after it has been tampered with by a handyman. Unfortunately if the repairer is inexperienced, they can damaged the locking mechanism beyond repair.

A Tilt & Turn Window Repair Specialist
Is your Tilt & Turn window is catching on the lower corner or if the handle is stiff to fully lock? Please call The Window Wizard to adjust or repair your window before any permanent damage is cause by excess force. Our trained technician David, has been fixing Tilt and Turn windows for over 25 years and knows them inside out literally! We stock Tilt & Turn window handles in most sizes and colours. Uniquely, we also stock a range of rare parts. So even if your Tilt & Turn window are really old or feels like it is falling out when you turn it, we can still fix it! Furthermore, as a Local Window Doctor we have the technical knowledge to repair for a fair and fixed price.
Why choose The Window Wizard for your Double glazed window lock repairs
All repairs undertaken, any age and any make
Highly recommended, over 25+ years in the industry
Experts in double glazing window problems
Competitive prices
£2 million pounds Public Liability Insurance
Professional and reliable
No job too small
Free estimates over the phone
No call out charge
Genuine Repair ONLY company NO installation
No Fix – No Fee – No Call out Charge
Call The Window Wizard a Window Lock Specialist, for any double glazing window repair
Please Call David or Clare on 0208 310 4193 or via info@TheWindowWizard.Biz for a fixed price for all your UPVC door repairs and Double glazing door problems. Including window repairs such as broken window hinges, a stuck locking window mechanism or jammed windows.
Locksmith Service
Door Lock Adjustments
Multi Point Mechanisms
Open Jammed Locks
UPVC Door Hinges
Door Handles
Lost or Broken Keys
Replacement Door Locks
Dropped Doors
High Security Cylinders
UPVC Door Repairs
Door Restrictors
Open Locked Doors
Gaps & Drafts Cured
Extra Security Devices
Key Barrel Change
Double Glazing Alignment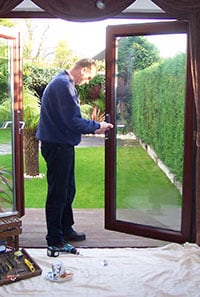 Window Hinges
Window Handles
Locking Mechanism
UPVC Locking Gearbox
Open Jammed Windows
Gaps & Drafts Cured
Lost Window Keys
Window Adjustments
Open Locked Windows
Window Frame Lock Parts
Window Locks
Extra Security Locks
Tilt & Turn Window Repair
Loose or Wobbly Handles
Fire Escape Hinges
Child Restricted Hinges
Discontinued Locks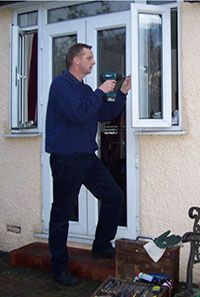 The Window Wizard offers double glazing repairs Bexleyheath, Door repairs, and window repairs to the areas as shown below:
Abbey Wood, Albany Park, Barnehurst, Bean, Bexley, Bexleyheath, Belvedere, Blackfen, Bluewater, Bursted Wood, Crayford, Crockenhill, Darenth, Dartford, Eltham, Erith, Falconwood, Foots Cray, Greenhithe, Hawley, Hextable, Horton Kirby, Joydens Wood, Kidbrooke, Mottingham, New Eltham, Northumberland Heath, Sidcup, Slade Green, Stone, Sutton at Hone, Swanley, Swanscombe, Thamesmead, Welling, Wilmington.
We are able to provide our services in the postcode areas listed below:
DA1 DA2 DA5 DA6 DA7 DA8 DA9 DA10 DA14 DA15 DA16 DA17 DA18 SE2 SE9 SE28 BR8
Your Local Window Doctor, Double Glazed Window Lock Repairs, Jammed Windows Opened, Locking Window Mechanism Replaced, Covering Bexleyheath, Swanley, Dartford & Beyond
Summary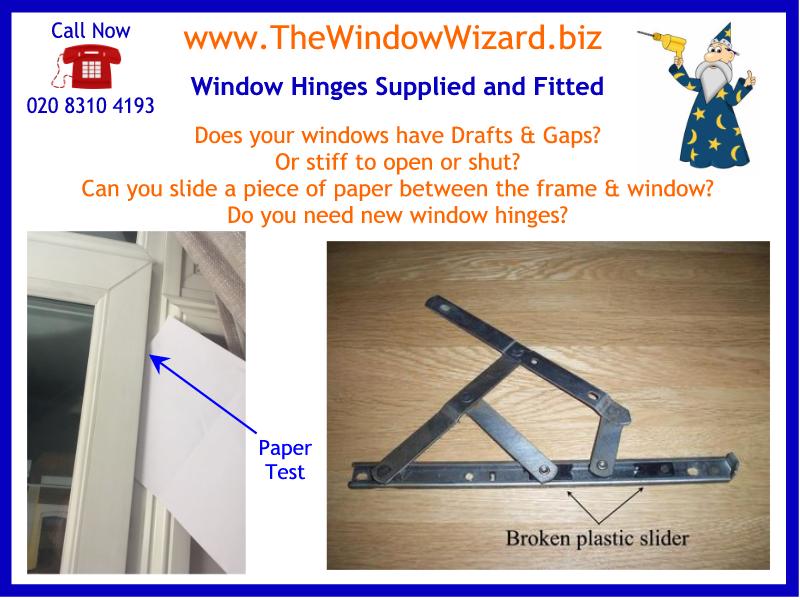 Service Type
Jammed windows opened, broken window hinges replaced, locking window handles renewed
Provider Name
The Window Wizard
,
The Quadrant
,
Bexleyheath
,
Kent
-
DA7
,
Telephone No.02083104193
Area covered
Bexleyheath, Dartford, Crayford, Swanley, Welling, Wilmington, Thamesmead, Sidcup, Erith, Barnehurst, Bexley, Belvedere, Blackfen, Eltham
Description
Window Doctor, Expert in Double Glazed Window Lock Repairs in Bexley and surrounding areas. We specialise in Tilt & Turn window problems, broken window hinges, locking window mechanism problems and opening jammed windows. Honest family repair ONLY company, competitive fixed prices