UPVC Door Lock Change and Double Glazing Door Repairs, Swanley, Dartford, Bexley

By having a UPVC Door lock change on a broken lock, it will save you money, inconvenience and the need for a new door. Furthermore if your multi-point lock has broken, David can replace the lock and solve the cause of the initial problem. David offers a UPVC door lock change on Euro cylinders and can upgrade your barrel for extra security.
Whether you're in need of one or multiple repairs. The Window Wizard is confident he can take care of your front door's broken parts. David's expertise stretches over 25 years. During that time he has repaired hinges, jammed locks, drooped doors and many other front doors issues.
Door lock change when moving Home
We know how important it is for our customers to feel safe and secure when you move to your new home. We can offer you piece of mind by offering a UPVC door lock change, we can supply and fit your new home with the latest Euro cylinders. Why not upgrade your standard door cylinder at the same time as changing your barrel and keys, with a high performance 6 pin Euro Door Cylinder which is Anti drill/bump/snap/pick?
Statistics show that 58% of people lend front door, back door and entrance keys to: Tradesmen, Cleaners, Neighbours, Friends and family.
Please remember that even if you have been given 3 keys to your new home. Many more keys could have been cut and given over the years.
It only takes 5 minutes to cut a new key.
So please keep this in mind when you buy, lease or move into a new home.
If you would like to change your keys, please call David or Clare.
It could cost a lot less then you think because only the barrel / cylinder will need to be changed and not the whole multi point locking system.
Fixed prices are given on the phone. Most lock makes and types are stocked, meaning that only one visit will be necessary.
Please click here to read more on Thumb Turn door locks.
The Window Wizard can supply and fit you a thumb turn door lock change for most styles of double glazed doors.
Lock Snapping
High security Euro cylinders can prevent against lock snapping which is a method used by burglars to break into a home and can gain access through your front or back door within 60 seconds when a standard euro cylinder is fitted. The intruder will smash the door handle and break the cylinder in two, then manipulate the lock open. It is not just the multi-lock that ensures the door is secure but the cylinder itself that operates and controls the lock.  The cylinder is the weakest point and if compromised all the locking points are in vain.
Key Bumping
Lock bumping is a lock picking technique that intruders use for opening a UPVC & Double Glazed door locks using a specially made bump key which they fit into the cylinder then tap while trying to turn the key.
Below is a before photograph of a standard Euro cylinder and an after photograph of a extra security cylinder fitted in the same pair of French doors: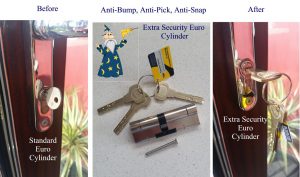 Windows & Door Repairs before your home survey
Are you moving home and need affordable window or door repairs carried out, before your new buyer carries out a survey?
Call The Window Wizard if you require any double glazing repairs before your potential customers view your property. We can carry out most repairs in just one visit, so you won't need to keep having days off work for repairs.
So whether you require:
    Spare window handle locking keys
    A broken or worn door or window handle replaced
    A new cat flap fitted or a new UPVC reinforced panel to replace a cat flap
    French doors, Sliding door, tilt and slide doors or porch door adjusted
    Patio doors, front door, back door or conservatory door adjustment
    Jammed window opened and repaired
    Window hinges replaced
    UPVC Door lock change
    Door letter box renewed
    Wobbly door handles replaced
    Door hinges replaced
Likewise if you have just moved into a new property and have noticed any of the above problems, then please call David for a fair price and friendly service.
Extra Security and Upgrade for your Double Glazed Door Lock
Unfortunately due to the increase in crime, I have recently been asked to fit extra security door locks for my customers but this is normally after a burglary. Prevention is better than cure so if you would like to add extra security and peace of mind to your UPVC Double Glazed Front door, Sliding Patio doors, Porch, French, composite or back door security please give me a call to discuss your options.
Extra security devices I can supply and fit, in addition please click here to read more about composite door lock changes
It's not just your door we can offer extra security to, we also offer a range of extra security devices for your Double Glazed windows too.
I can fit door chains, extra bolts, swing bolts, anti drill, anti bump, anti snap, anti pick door cylinders / barrels etc..
Upgrade your standard door cylinder to a high performance 6 pin Euro Door Cylinder which is Anti bump/snap/pick
    Supplied with 3 keys
    Extra security Euro Profile 6 Pin BS Cylinder
    Hardened Anti -Drill pins
    Anti – Pick / Break / Snap
    Over 100,000 key combinations
    BS EN 1303 classification 16000C62
    Security grade 6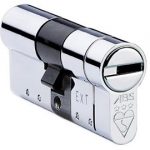 UPVC door lock advice and how to help prevent burglaries 
I was given a met police leaflet by one of my customers regarding UPVC door lock advice which I would like to share with you. If you would like piece of mind and extra security, please call The Window Wizard for advice and a fixed price for a door lock change.
Your doors must be double locked to be properly secured.
Deadlock your door with the key, do not just lift the handle.
Keep house keys upstairs or store them near the door, out of sight, for easy access in an emergency.
Use all door and window locks fitted to your home.
Keep your car keys away from the front door and store them somewhere safe
Ensure that all your multi-point door locks are working correctly.
If your UPVC door lock is not functioning correctly then please give us a call on 0208 310 4193 so we can give you a FREE quote to repair or renew your door lock.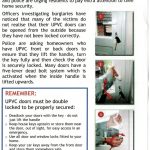 The Metropolitan Police and Greenwich Council have got together to print and distribute the above leaflets.
Keeping your home safe



Please remember to always lock your doors and windows, even if you are only going out for a few minutes. If you have a UPVC door lock or windows double-lock them with the keys to secure them properly.
Leave some lights on if it will be dark before you get home. Install low wattage 'dusk to dawn' outside lights. If you have a burglar alarm remember to activate it.
I can upgrade your existing standard door cylinder and supply and fit a high security cylinder.
How The Window Wizard can help you
I have also noticed that many people do not fully lock their front UPVC door lock.
If your door handle does not lift fully up and allow you to turn your key it could be that your door is misaligned, dropped or another simple problem that can be fixed.
If your UPVC door is not locking fully then give me a call and I will quote you a fixed price over the phone to fix it.
Please Click Here to read more information on double glazing UPVC door lock change.
We can also offer you a UPVC door lock change, extra security device , locks to fit on your existing double glazing windows and doors.
Double Glazing Repairs
Why choose The Window Window Wizard?
One of our main advantages is that you shouldn't have to worry about being sold anything from our service. Equally important, we are strictly a repair business. This means that you can relax knowing we'll provide a fixed price service.
One of the benefits we pride our service on is exclusivity to our customers. With just one soul repairman at the centre of our business, you can be met by a familiar, friendly face each time you require a repair. This also means you can enjoy not having to worry about explaining the issue or door make over and over again as we'll know what you need as soon as possible.
You can go ahead and contact us today by filling out the simple contact form on our website or by giving us a call on 020 8310 4193. Photographs of your broken door lock or wobbly door handles can be sent by email or WhatsApp to 079 5058 2631.
Summary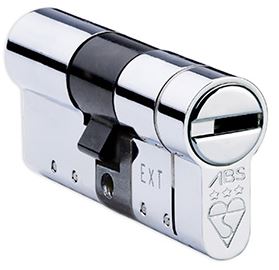 Service Type
UPVC door lock change, Extra Security and door lock up-graded for double glazed doors
Provider Name
The Window Wizard
,
The Quadrant
,
Bexleyheath
,
Kent
-
DA7
,
Telephone No.020 8310 4193
Area covered
Bexleyheath, Dartford, Crayford, Swanley, Welling, Wilmington, Thamesmead, Sidcup, Erith
Description
If your UPVC door is not locking fully then give me a call and I will quote you a fixed price over the phone to fix it. We can also offer you extra security device / locks to fit on your existing double glazing windows and doors. UPVC door lock change in one visit.