Have you lost your window keys or has the key broken in your window handle?
Lost window keys or have you snapped or broken your key in your window handle lock?
If you have lost or never had any window keys from the previous owner, then don't panic we can help. I have a large bag, with a selection of spare window keys. A master key can normally be found for most old and recent double glazing window handles.
Recently I have receive quite a few phone calls from customers, who had recently moved into their new property. Unfortunately the previous owner had forgotten to mention that they had lost the window keys. Also landlord's encounter this problem of lost window keys too. When previous tenants move out and their new tenants can't open the windows as the keys were lost.
Lost Window Keys
Please see below a sample of my window key collection, which I have accumulated over the years. I have keys for UPVC plastic and aluminum handles including early style handles which are discontinued.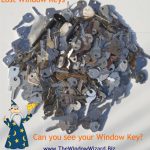 Also if you experience a broken key in your window handle. I have some special extraction tools so I can help with that too. Whether you have a broken key in your window or it has snapped in the door lock, we can help.
For all your double glazing repairs please call The Window Wizard we are honest and fair.
We are one of the leading window and door Double Glazing repair specialists in your local area. We are a repair only company. Unlike the majority or other Double Glazing repair companies we DO NOT INSTALL Double Glazing.   With our competitive prices, reputation and expertise call The Window Wizard for a free quotation over the phone.
Please Click here to read more on window hinges and maintenance.
Don't forget to lock your UPVC Double Glazed window handles and door locks with a key or it may invalidate your home insurance cover?
I wanted to remind all my customers with key operated handles, to lock your windows and remove all keys.
To comply with Direct Line home insurance, all windows must be locked with a key. Failing to remove any window keys from a locked window could invalidate your insurance.
If you lock your windows but fail to remove the keys or leave them in a position where it is visible from outside, you may not covered for theft.
Equally important, when you leave your home ensure that all your security measures are in place, so that you don't invalidate your cover.
What standards and requirements does my home insurance require?
If your existing locks on your doors and windows don't meet the required standards that your policy states. Or your locks are poorly maintained, most of all not used, then you risk your insurer rejecting any claims.
When you apply for home cover, your insurer may ask you which types of locks you have on your sliding doors or French doors. Furthermore, they will also ask about locks on other accessible windows.
What type of door lock do I have?
Multi-point locking system for UPVC and composite doors
A multi-point locking system has a minimum of three locking points. All locking points lock simultaneously with a turn of a key. Multi-point locks are common on most UPVC and composite doors.

Five-lever mortice deadlock for wooden door


A five-lever mortice deadlock has at least five locking levers, which drive into a pocket in the door frame where the lock is fitted.

French Doors


Specific mention should also be made of French doors, as you must ensure that these are fitted not only with key-operated locks, but also key-operated mortice rack bolts at the top and bottom of both doors.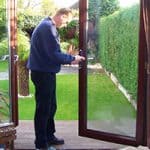 Door Locks required to validate your insurance:
The final exit door secured by a 5 lever mortice deadlock or a rim automatic deadlock or an integral multi-point locking system.
All external sliding patio doors secured by key operated bolts or an integral multi-point locking system.
All doors on domestic outbuildings and garages secured by key operated security device.
Window Locks required to validate your insurance:
All ground floor, basement and accessible upper floor opening windows secured by key operated window locks.  Except those occupied bedrooms at night.
Above all, the windows must be locked.
Your window keys must be removed and not visible from the outside.
Many insurers will insist that you have key-operated window locks. In addition at least some other form of security lock, on all downstairs windows.
If you have lost window keys, The Window Wizard can supply you new replacement key for your existing window handle.  Please call David or Clare on 0208 310 4193 if your key was not pass onto you from the previous owners, so we can supply a new master.
You can click here to visit our Contact Us page.
The Window Wizard – Call 020 8310 4193 – Mobile / WhatsApp / Viber 079 5058 2631 – Email –  Info@TheWindowWizard.Biz – Website – www.TheWindowWizard.biz
Summary
Service Type
UPVC Door Locks repaired and repalced
Provider Name
The Window Wizard
,
The Quadrant
,
Bexleyheath
,
Kent
-
DA7
,
Telephone No.020 8310 4193
Area covered
Bexleyheath, Dartford, Crayford, Swanley, Welling, Wilmington, Thamesmead, Sidcup, Erith, Barnehurst, Bexley, Belvedere, Blackfen, Eltham
Description
When it comes to repairing a faulty double glazed UPVC door. It doesn't always mean that you need to change the whole door. We can save you £'s by simply repairing, fixing or replacing the locking mechanism, handles, hinges or adjusting the door.