UPVC French Door Repair
The Window Wizard offers UPVC French door repair to Bexleyheath and surrounding areas. Are you having trouble closing or locking your French Door? We offer an affordable and cost effective repair service.
If your door is not aligned correctly it could affect the locking mechanism. Furthermore if the French door is really misaligned, it could stop the door from closing or locking. We can solve this problem for you at a fixed price.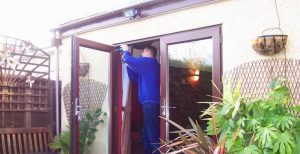 The re-alignment and adjusting of the French doors will require both doors to be adjusted. Many people assume that only one side of their French doors require adjustment. However this is not the case, as both doors need to be adjusted together to operate correctly.
French door multi point locking mechanism supplied and fitted
We supply and fit multi-point locks for French doors. Furthermore we carry the most popular locks on The Window Wizard van. Therefore your lock can be replaced in one single visit. 85% of the time a French door multi lock will break due to a misaligned or dropped door. Equally important as part of our fixed price, we will always adjust your French doors when fitting a new multi lock. Thus Stopping the initial problem that broke your door lock originally. Most locksmiths do not offer this service of adjusting both the doors when replacing the lock.
David, The Window Wizard is a UPVC lock specialist and will never take your lock away with him or in fact taking any parts away from the property. David has recently attended repairs where previous installers or handymen have taken the multi locks from the door and not returned them. If you need a French door repair, call a professional The Window Wizard
020 8310 4193.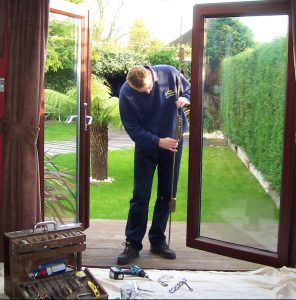 My UPVC French Door handle feels stiff to operate when I lift the handle to lock my doors
If you feel a resistance as you lift your handle don't force the handle up. As this can break your multi-locking system. In fact most multi-locks are broken due to a misaligned door and the handle or key being forced. First try spraying some '3 in One' oil on the multi lock as it could be dry. Ensure there is no dirt or small objects are causing an obstruction. If this does not help then please Call The Window Wizard. Furthermore we offer a free quote to fix your French Door Repair. We can adjust your Doors so that they line-up correctly and operate smoothly, how they should. A door adjustment can prevent you from breaking your multi-point lock or patio door locking lever. As well as have your doors working smoothly and like new again.
UPVC French Doors and Front Doors affected by the Weather
Hot weather can affect the operation of your French doors, Back door, Patio door or Front Door. If the doors were not adjusted correctly or if they had been installed poorly or incorrectly.
Most common problems we encounter are where the edge of the door are catching or rubbing on the edge of the framework. Quite often the door handle becomes stiff which will make the door difficult to lock fully.
For further information on conservatory French door repair please click here.
Double Glazing French door repair & Adjustments
Most modern types of Double Glazed doors should NOT be affected by the hot weather. As they have a built in expansion tolerance.
Poorly fitted double glazed door and window problems can be more problematic and apparent in the Hot weather. However, French doors can drop or become misaligned due to wear & tear. We offer a fixed price, French door repair to solve this problem.
If the double glazed door and windows have been fitted correctly, you should not have any problems regardless of how hot the weather gets.
However, if your double glazed UPVC door has NOT been fitted correctly then the expansion gap/tolerance built into the design of the door could be set-up wrong and when the heat expands, your door or window it could be stiff to operate the lock or rub and catch along the frame edge.
All double glazing is designed to withstand extreme temperature changes and will only be affected by the weather if it has not been fitting correctly, badly worn or damaged.
Please Click Here to read more about how your doors and conservatories can be affected by the hot weather. Or Call 0208 310 4193 for a French Door Repair.
Incorrectly or badly installed Double Glazed Door and Window Problems?
If your door and window Problems are due to poor installation and haven't worked correctly since installation, unfortunately, we are unable to help. Furthermore, we can not offer a French Door Repair. Therefore we recommend you speak with the company that installed the double glazing. It is more than likely, if your UPVC door has not been fitted correctly, the expansion gaps and tolerance built into the design of the door could be set-up wrong. Therefore when the heat expands, your UPVC plastic front door maybe stiff to operate the lock, the door may rub and catch along the frame edge.
Sorry, I do not offer a service of inspecting or a written report for installations of poorly fitted double glazing. Offering Double Glazing & UPVC Repair Locally.
We are a double Glazing window and door repair only company
David, The Window Wizard does not offer an installation service. For this reason we do not finish fitting the remainder of windows and doors, if a company or builder has gone bust.
Double Glazing window and door manufactures state that all double glazing is manufactured and designed to withstand extreme temperature changes.
How The Window Wizard can help you
If you are having window and door problems due to the weather, age or wear and tear? Than please call The Window Wizard for a fixed price to replace your window hinges, adjust your door, open your jammed window, renew your door lock or any technical repairs such a tilt and turn window adjustments.
90% of the time your window or door problem can be solved and new windows and doors are not necessary. Nor is the huge expense and inconvenience of installation. Most times the problem can be solved, please give me a call or email for a quote.
Please Click Here to read more on how your double glazing can be affected by the hot weather, furthermore a lack of maintenance.
French door restrictors supplied & Fitted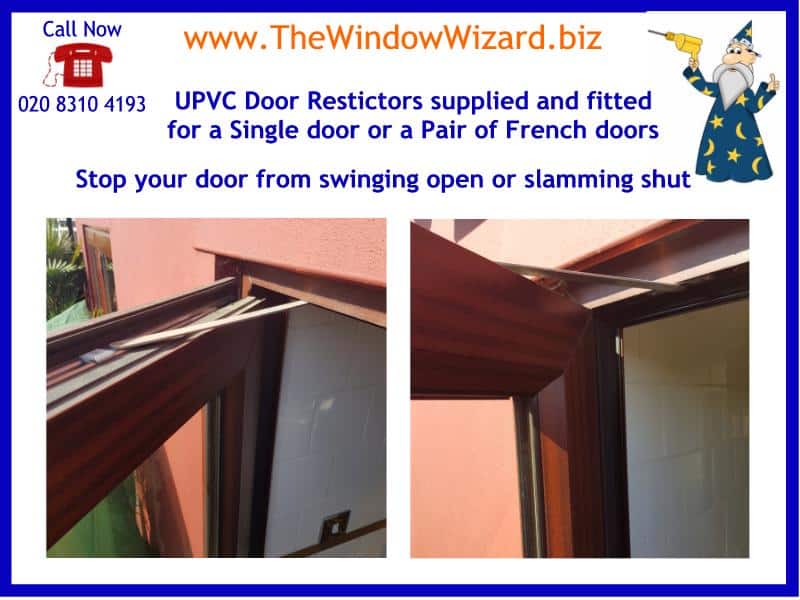 We supply & fit door restrictors to French doors, which will prevent the door from slamming shut. In addition it will stop the door from swinging open and damaging your door hinges. Please click here to read more about door restrictors.
UPVC Window and Door repairman
Summary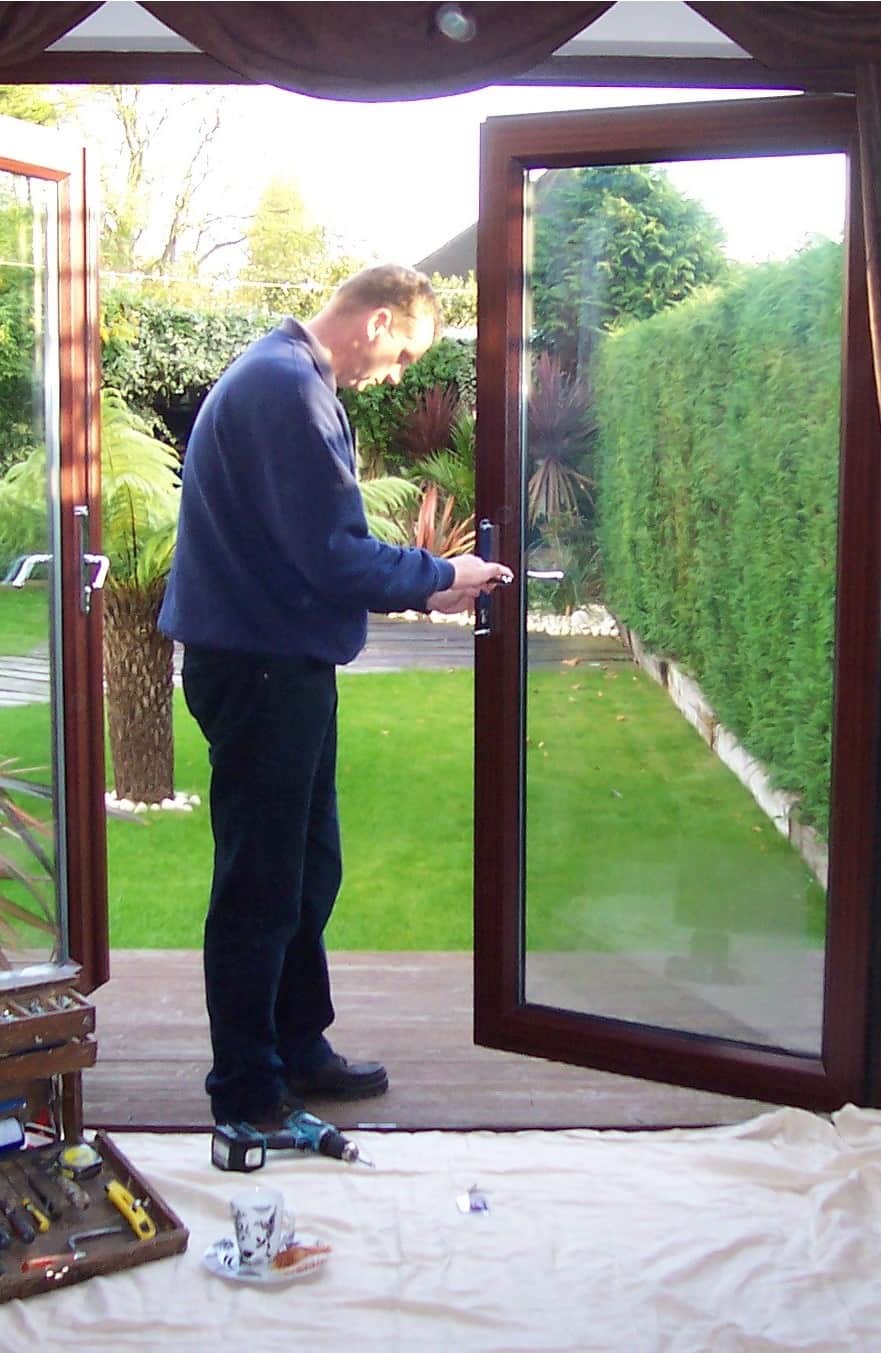 Service Type
UPVC French Door repair and adjusted
Provider Name
The Window Wizard
,
The Quadrant
,
Bexleyheath
,
Kent
-
DA7
,
Telephone No.02083104193
Area covered
Bexleyheath, Dartford, Crayford, Swanley, Welling, Wilmington, Thamesmead, Sidcup, Erith, Barnehurst, Bexley, Belvedere, Blackfen, Eltham
Description
When it comes to repairing a set of faulty double glazed UPVC French doors, it doesn't always mean that you need to change the doors. We can save you £'s by simply repairing, fixing or replacing the locking mechanisms, handles, hinges or adjusting the doors.