Adjustable UPVC Door Restrictors for Double Glazed Doors
We supply and fit adjustable UPVC door restrictors for your Double Glazed porch doors, French doors, conservatory doors, front and back doors.
The door restrictors provide an adjustable resistance to stop your door from slamming shut or swinging too far. Also the door restrictor will stop the door from opening to far and hitting the wall or your car parked on the drive.
Unfortunately the door restictors can only be fitted to double glazed UPVC doors and not aluminum or composite doors.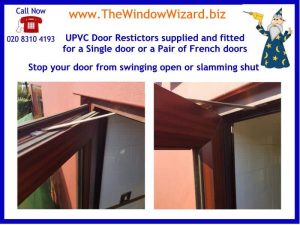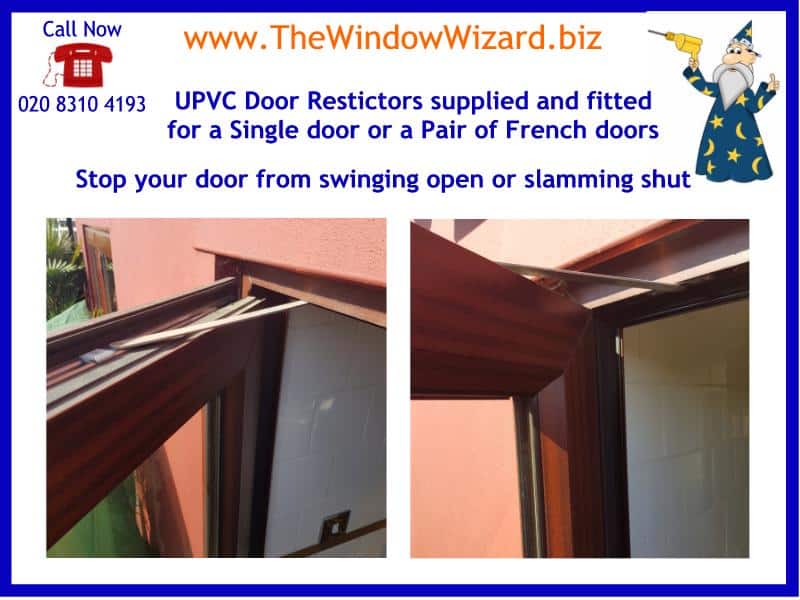 Please click here to read further details regarding restrictors fitted to a set of French doors.
Prevention is better than cure. Why not fit a door restrictor to stop your double glazed door from being damaged?
If you are having problems with your doors being blown open or your visitors/children swing the door back against the wall, why not fit a restrictor.
A door restrictor can be fitted to most UPVC doors (non visible) and not only does it stop the door from swinging right round, the restrictors also have a handy adjustable friction system.
I have even seen many cases where the door has swung back so violently that it has ripped a section of door or framework out and damaged the door, frame or hinges beyond repair.
For further details click here to contact us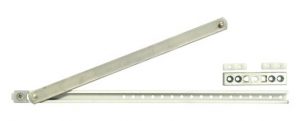 Strong winds can break UPVC Door Hinges
Due to the recent windy weather, I have helped a number of customers with broken door hinges. The most common hinge to break is the top hinge. This is due to the weight of the door hanging primarily on the top hinge.
I can source most types of UPVC front and back door hinges, including Flag hinges or Butt hinges. Once the new hinge is fitted the door is good as new again.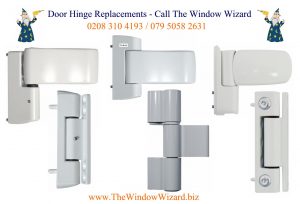 Some styles of door hinge have been discontinued, therefore all the hinges will need replacing but this is not a problem.

Benefits of fitting Restrictors on UPVC doors
The Restrictor will stops the UPVC door from slamming shut, in the wind.
Also they will hold and keep the door open, for your convince.
Furthermore, having a door restrictor will improve the safety of the door for young children and pets. Stopping these little fingers from being caught in the door.
Reduces the chances of damage to the door & frame from hitting objects.
Because the restrictors are adjustable, you are able to controls the amount of swing and friction of the opening and shutting.

Which types of double glazed doors can be fitted with a restrictor?
Double Glazed UPVC Porch Doors
UPVC French Doors
Double Glazed UPVC Front Doors
UPVC Back Doors
UPVC Conservatory Doors
Please note that The Window Wizard only offers repairs to domestic homes as commercial properties often use completely different hardware.
Covering the Bexleyheath area and beyond such as Erith, Belvedere, Sidcup, Dartford, Barnehurst, Swanley, Welling, Wilmington, Greenhithe, Eltham
Please Click Here to read more on restrictors fitted to conservaties and conservatory repairs.
Website: www.TheWindowWizard.Biz – The Window Wizard – Call: 020 8310 4193 – Mobile: 079 5058 2631
Summary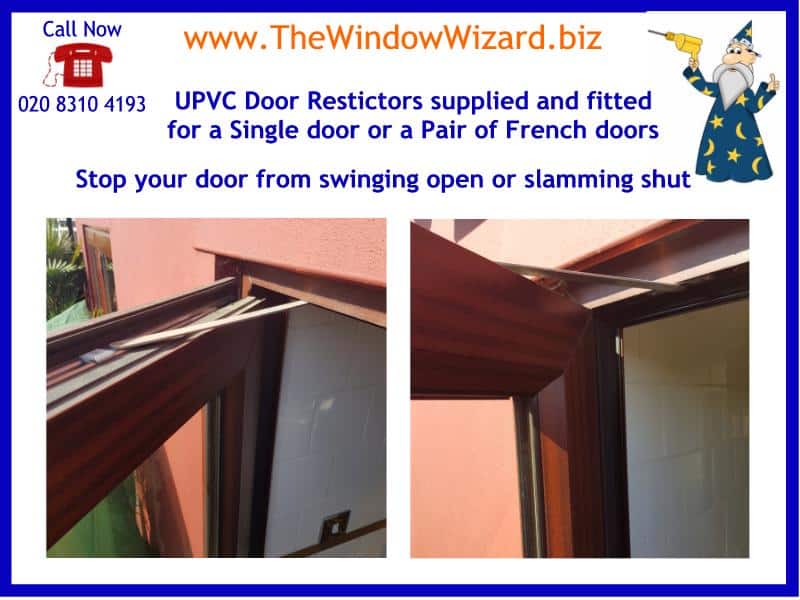 Service Type
Door restrictors fitted to UPVC Double Glazed doors
Provider Name
The Window Wizard
,
The Quadrant
,
Bexleyheath
,
Kent
-
DA7
,
Telephone No.02083104193
Area covered
Bexleyheath, Dartford, Crayford, Swanley, Welling, Wilmington, Thamesmead, Sidcup, Erith, Barnehurst, Bexley, Belvedere, Blackfen, Eltham
Description
UPVC Door restrictors fitted to Double Glazed doors. The Window Wizard supplies and fits adjustable door restrictors, for your UPVC double glazed porch doors, French doors, conservatory doors, front and back doors. The door restrictors provide adjustable resistance to stop your door from slamming shut or swinging open too far.