Double Glazing Maintenance Tips
The Window Wizard would like to give all our customers some helpful Double Glazing Maintenance Tips. Believe it or not, summer is here but according to the news this is the wettest April for 100 years.. Hopefully we will get some sunny days soon although we have a hose pipe ban in force at the moment. There is nothing stopping you from spring cleaning and washing your windows. Just a bucket of warm soapy water and whilst doing this checking for any leaks or gaps. Check out my UPVC Repair Maintenance tips and check list.
UPVC Repair Maintenance Tips and advice on which lubricate to use
I have had a few customers phone and enquire regarding problems they are having with their UPVC door locks and window mechanisms.
When I ask them when they last lubricated their locks most said "NEVER"!
All window and door locks, hinges and window mechanisms should be lubricated at least once a year, some multi point lock manufacturers recommend every 6 months.
Ideal lubricants:
3 IN ONE (spray or can oil) if using the dripper can, just drip a little oil onto your door key and then work your key in and out of the cylinder / barrel on both sides (inside and outside).
Light machine oil (similar to sawing machine oil) or Graphite spray lubricant.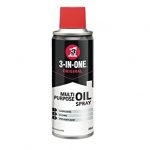 A list of checks and Double Glazing Maintenance Tips
Now is a good time to open all your windows and doors. Put a drop of lubricant on all the moving parts within the locks, handles and mechanisms. Please see below the diagram for advice on where to oil your hinges.
An ideal lubricant is '3 IN ONE' oil or any light machine oil, NOT WD40!
It is recommended by the manufacture that you lubricate your hinges twice a year to prolong the life and to stop any squeaking noises.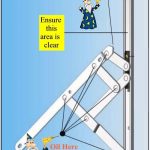 Have you inspected your windows and doors recently?
Oil your window and door hinges
Can you feel a draft from your windows? Then you may need new window hinges.
When your door is in the locked position lift the handle and turn the key. Does your handle operate smoothly? Now open your door and repeat the procedure again? If you find the operation of the handle and multi-lock operates better when the door is open, then you may need your door adjusting. Prevention is better than cure and a door adjustment could stop the multi-lock from breaking as the misalignment between the door and the frame may put a strain on the lock.
When washing / cleaning your UPVC windows please avoid using washing up liquid, as this could damage and degrade the rubber seals also when cleaning your UPVC frames, remember not to use anything abrasive as this could scratch the surface and trap the dirt.
Use a damp clean cloth to clean the friction track on your sliding patio doors, to ensure that they are free from dirt and debris.
Have you mislaid your window keys? Check you have your window keys. It's a good idea to keep a window key in each room in the event of an emergency or fire.
Clean any blocked drain holes (please see photo below) After a heavy downpour you may find water laying in the bottom of your door and window frames? If the drainage holes are blocked this will not allow the water to drain away through the drainage holes in the base.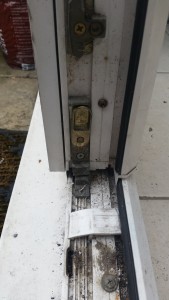 Don't forget to oil your:
Window hinges
Window locking mechanisms (the moving part on the edge of the open window)
Door hinges
Door locks (all the moving parts on the edge of the open door (including the top and bottom shoot bolts if fitted)
Lock barrels
Some types of window locking handles require a small amount of oil (especially if they are in a bathroom due to moisture)
Conservatory windows and door components may need extra maintenance of lubrication during the hot summer months, please click here to read more.
If you have recently moved into a new property and found that the previous owners have not services or maintained the window and door components, firstly try soaking the parts in lubricate and if this does not work please give us a call on 020 8310 4193
We offer a supply and fit service of Window hinges, mechanisms, gearboxes, catches, frame keeps and Door Locking Mechanisms, handles, hinges etc
What can happen if you do not oil your windows and doors:
If you find any problems just give me a call and I will be happy to advise and quote for any repairs needed. I specialise in broken door locks, lost window keys, drafts, replacement hinges and door adjustments
Please Click here to read more details on UPVC window and door leaks, gaps and drafts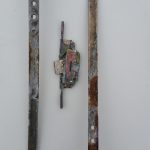 Specialist in all types of double glazing repairs
UPVC Double Glazing Window and Door Care
Please Click here to read about the National Window Scrappage Scheme which is NOT a Government scheme.
Or information regarding condensation
Summary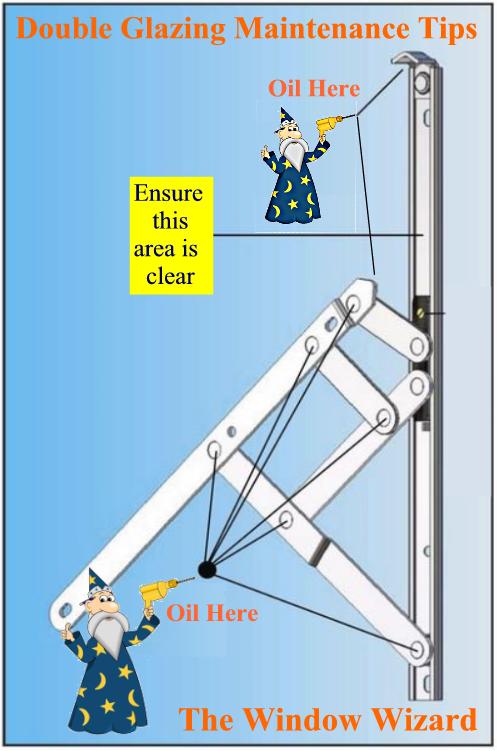 Service Type
Double Glazing UPVC repairs for all age and makes of windows & doors
Provider Name
The Window Wizard
,
The Quadrant
,
Bexleyheath
,
Kent
-
DA7
,
Telephone No.020 8310 4193
Area covered
Bexleyheath, Dartford, Crayford, Swanley, Welling, Wilmington, Thamesmead, Sidcup, Erith
Description
The Window Wizard is a specialists in double glazed windows, doors and conservatory repairs. We fix and replace parts such as faulty locks, mechanisms, handles and hinges. With over 25+ years' of experience, we pride ourselves in offering great customer service. We will only charge you for work and repairs that actually needs doing.