Aluminum & UPVC Double Glazing Windows Gaps, Drafts & Leaks Cured
Double Glazing Window Gaps Drafts & Leaks fixed for UPVC plastic windows and Aluminum. Are your Double Glazing windows suffering for gaps which allows all your heat to escape? Not to mention the drafts that you can see blowing your net curtains or blinds? Let alone the noise you can now hear through your double glazing. Don't panic help is at hand, Call The Window Wizard for a fixed price and appointment to replace your window hinges. Or if you have problems with a drafty or leaky door please read our page on door issues.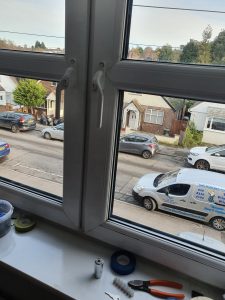 Rainwater leaking on to windows
Recently due to the high level of rain, I have been called by a number of customers where rainwater was sitting on their window inner ledge/ window sill.
This simple problem can be cured in one visit. After I have solved the problem, I show my customer the route of the cause. I then demonstrate with a jug of water to confirm & test that the problem is fully cured.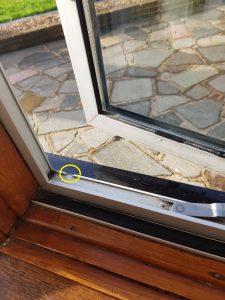 However, in rare cases the leak problem cannot be solved due to a design fault in the Double Glazing window. Although the water leak issue would have been present from the day of installation. I have still managed successfully to cure some leaking windows. Quite a few early windows had this design fault which caused leaks. However it would not have caused gaps or drafts. Although some water leaks can be caused by condensation. For further information and details on the causes, please read our page on condensation problems.
Do you have Gaps and Drafts in your Double Glazing Windows?
Does your Double Glazing windows have drafts or do you have gaps?
Are you having problems opening and closing your UPVC window?
Have your windows become noisy?
Has your window dropped or become out of alignment?
Then please call The Window Wizard for a cost-effective repair which will help save on your energy bills.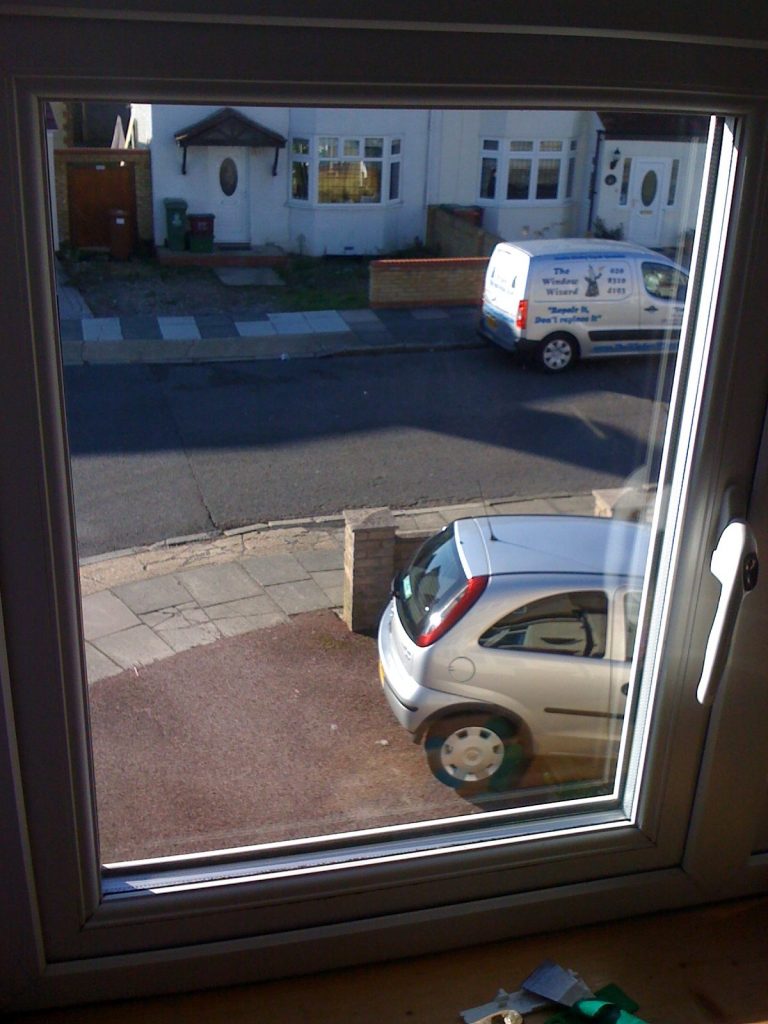 How do I know if I need my hinges replace on my Double Glazing windows?
Are your double glazing windows suffering from gaps and drafts?
Has the handle become stiff to lock?
Are you struggling to open and close your window?
Can you now hear traffic or noises from outside, louder than before?
Has the black or grey plastic slider broken in your UPVC window hinge?
Can you see your curtains or blinds moving with a draft?
Is it difficult to shut your Window?
Have you noticed in your aluminium double glazed window, that the plastic slider within the Window hinge has broken/split/snapped?
Has your UPVC Window hinge worn and no longer work in sync for a smooth operation to open or close the window?
If you incur any of the above problems with broken window hinges. Then a cost-effective replacement set of window hinges, will solve your problem. We offer a supply and fit service, for both aluminium windows hinges and UPVC windows hinges. We replace hinges which are secured by either pop rivets or screw fixed.
Website: www.TheWindowWizard.Biz – The Window Wizard – Call David now for a FREE Estimate on 020 8310 4193 Mobile 079 5058 2631
Summary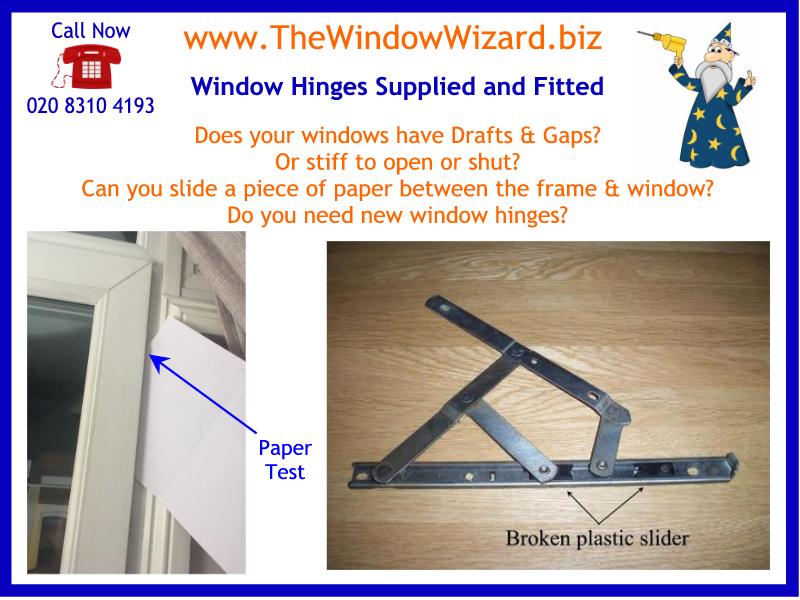 Service Type
Double Glazing Window Gaps Leaks Drafts and problems solved
Provider Name
The Window Wizard
,
The Quadrant
,
Bexleyheath
,
Kent
-
DA7
,
Telephone No.020 8310 4193
Area covered
Abbey Wood, Bexleyheath, Dartford, Crayford, Swanley, Welling, Wilmington, Thamesmead, Sidcup, Erith, Barnehurst, Blackfen, Eltham
Description
The Window Wizard offers a local UPVC Window repair service that fixes Gaps Leaks Drafts and most problems with double glazed windows. Because we do NOT fit new double glazing we will do our very best to fix your existing windows and doors from any supplier or any age.