UPVC window hinge problems fixed and broken window hinges replaced

Do you have gaps or drafts around your double glazing windows? Are you having trouble closing your window due to bent or broken window hinges? Or has the plastic slider broken, on one of your upvc window hinges?
Furthermore, Did you know that 95% of the time that, drafty UPVC windows are due to worn or failing window hinges?
Are your windows not working and operating how they used to? David, The Window Wizard can solve ALL your gaps & drafty UPVC windows problems in one visit.
If your window does not closing fully or has gaps and drafts? The problem is most likely due to broken window hinges or locking mechanism. However, if the hinges are ok, the gaps and drafts could be caused by a dropped window. We can fix this window problem by re-aligning your window. Please give me a call for a free diagnosis and fixed repair quotation. Call now on: 02083104193 to book an appointment to replace your worn and damaged window hinges or to re-align your window.
We can supply and fit all types and sizes of window hinges in one visit.
Broken plastic slider on a window hinge
The most common problem with double glazed window hinges is broken plastic sliders, as shown in the photo below:
Unfortunately when the black/grey slider has broken, the only solution is to renew the pair of window hinges.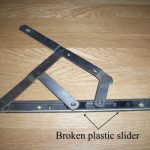 3 Reasons why a hinge slider might have broken:
Old age and fatigue
Lack of lubrication
The window was pushed open too fast and hard
Broken window hinges replaced
One of the most frequent repairs that we are asked to carry out is, replacing broken window hinges.
Quite often only one UPVC window hinge may have broken however, I always replace both of the window hinges. It doesn't matter if your broken window hinges are side hung OR top hung. As we carry all the different window hinge sizes of lengths, stack heights and track widths in the van. Ensuring the best experience and the least amount of inconvenience for our customers, most repairs can be completed in the 1st visit.
Drafty UPVC Windows are an affordable repair option and will save you money within no time. You don't need the costly expense of replacing your windows. What's more, you will save money on your heating bill.
Please see a list of our services of repairs we offer for all your double glazing problems.
Our whole business and ethos is set up for repairs only and therefore, we have a fully stocked van.
Call now on 0208 310 4193 to book your appointment. We can fix your drafty UPVC windows and have them working like new again.
Why struggle trying to open & close your tired windows? No job to small from drafty UPVC windows to locked shut doors with broken mechanisms. David or Clare are here to take your calls Monday – Sunday, 8am -8pm
How to test if I need new hinges?
Gaps & drafts around windows can be due to worn or broken hinges.
Step by step guide to test if you need new window hinges:
Make sure the window is fully closed and locked
Try to slip a piece of printer paper between the frame and opening window
Test this all the way around the perimeter of the opening window
Have you tried the "Paper Test"?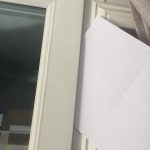 If you can fit a piece of paper or a credit card between the window and frame, this is an indication that your window hinges have worn.
However, if the window hinges do not need replacing, you should not be able to slip the paper anywhere around the edges of the frame.
If you are finding your windows become difficult to open and close or stiff? This could be an indication that your hinges are worn. Including gaps, drafts or a dropped out of alignment window, could be due to a worn and broken hinge.
We supply and fit friction hinges which are UK manufactured in stainless steel and offers excellent load bearing. We only use high quality hinges with a precision geometry for a smooth, positive closing action.
6 Common Window Hinge Problems
Are you struggling to open and close your window?
Has the black or grey plastic slider broken in your UPVC window hinge?
Does the window have gaps which let in a draft?
Is it difficult to shut your Window?
Have you noticed in your aluminium double glazed window, that the plastic slider within the Window hinge has broken/split/snapped?
Has your UPVC Window hinge worn and no longer work in sync for a smooth operation to open or close the window?
If you incur any of the above problems with broken window hinges. Then a cost-effective replacement set of window hinges, will solve your problem. We offer a supply and fit service, for both aluminium windows hinges and UPVC windows hinges. We replace hinges which are secured by either pop rivets or screw fixed.
Three main causes which leads to the damage and breakage of hinges
Broken plastic slider – This causes the window opener to not close fully and therefore leaving gaps & drafts.
Worn Pivot points – This also causes the window to not close tight.
Sheared or lose fixing points – This can cause all kinds of problems such as the opener catches the bottom or side edge when closing or the locking mechanism. The window handle will not lock.
Hinges supplied & fitted by The Window Wizard, quality you can trust
We supply and fit only the best quality stainless steel window hinges, which are the durable and heavy duty. The friction hinges are designed and manufactured by one of the longest established hinge manufacturers, in the world. Each window hinge has the precision geometry for a smooth, positive closing action. The variable opening angles allow easy use and safe cleaning, ensuring reliable long-life performance and offers excellent load bearing.
The stainless hinges we fit, are manufactured in the UK. An SBD approved product. Furthermore a restricted product for use with CE Marked windows, with an innovative and patented design.
Furthermore, please click here to read more about specialist window hinges we fit such as Fire Escape, Child safety window hinges & easy clean
Bent and buckled window hinge
A bent or buckled window hinge normally indicates a large window and sometimes the window can benefit from larger stronger upgraded hinges. The Window Wizard offers an affordable service to update your window hinges to meet new building regulations.  So whether you need your broken UPVC window hinge replaced, changed to child restricted hinges or fire escape then please call David The Window Wizard on 02083104193
If you have any problems with your window hinges, please give me a call and I will be happy to discuss your window problems and give you a fixed price to solve the problem.
Below is a photograph of a bent and buckled side hung window hinge. Often large windows are prone to their hinges buckling due to the size and heavy weight of the opening sash. If the manufacturer correct size hinges have not been fitted, they are prone to ware quicker, due to the strain they are under. Lack of lubricant will also cause a strain on the hinge, which could make the hinge bend. This problem can be rectified, by upgrading your broken window hinges and ensuring regular maintenance of lubricant.
Click here for more details, about the repairs we offer for double glazed windows.
Hinges supplied and fitted by The Window Wizard, quality you can trust
The hinges we fit are manufactured in the UK, SBD approved the product. Furthermore a restricted product for use with CE Marked windows, with an innovative and patented design.
We can supply and fit all types and sizes of window hinges in one visit. Thus save money and be energy efficient, by eliminating drafts and gaps in your windows.
Please click here to read in more details "About of Us" to explain in more details about our company and ethos.
How to maintain and lubricate your window hinges
Below you will see an illustration which demonstrates the location of where you should lubricate your window hinges. Additionally double glazing manufactures, recommends that you should lubricate your hinges twice a year.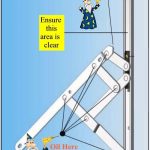 Please Click here to read in more details and to explain how you can maintain your upvc window.
A List of different styles and types of Double Glazed Windows
Fanlight top hung window hinges
To explain the positioning and location Below of a top hung fanlight window, please see the photo below. Fanlight window are the small window above a casement window. Or it could be positioned above a door. However, not all fanlight windows are opening windows.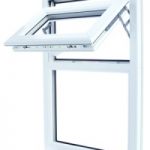 In addition top hung windows, are fitted with a left and right window hinge. Typically only one hinge will be faulty, it is advisable and recommended by the manufacturer that both hinges are renewed.  Top hung windows have one hinge fixed to the left of the window and frame and the other hinge fitted to the right-hand side. The window handle is located at the bottom of the window.
Top hung window hinges push out from the bottom of the window like a cat flap. Hinges on fanlight windows are especially prone to wear and tear. As they are frequently used for eve­r­yday ven­ti­la­tion, to allow airflow between rooms or into the home.
Casement windows
To clarify the hinge location on an open-out Casement window, side hung please see the photos below.
This style of window has a top and bottom hinge which therefore operates and opens like a door. Furthermore the window handle location is on the side of the window. As a result, the window handle is positioned at the opposite side to the top and bottom hinge.
Below is a photograph of an Open-out Casement window, Top hung left and right.
Furthermore, casement windows can also be Top hung with the hinge located left and right. The handle will be positioned in the centre and at the bottom of the frame. As a result of the window hinge position, the fanlight window will also open and operate like a cat flap.
Your Local Double Glazing Repairman
David, The Window Wizard offers a supply and fit service only. Providing Double Glazing Repairs locally. Unfortunately, we do not sell parts to the general public or trade. Therefore if you are not in or area or you just want to buy parts, we can not help you.
If you have any gaps or drafts around your windows or doors?
Call The Window Wizard now, for a FREE no-obligation quote. In addition we can replace your broken or buckled hinge at our fixed price with no call out fee. Equally important to our customers, we are a repair only company so we will not try to sell or install new double glazing.
Summary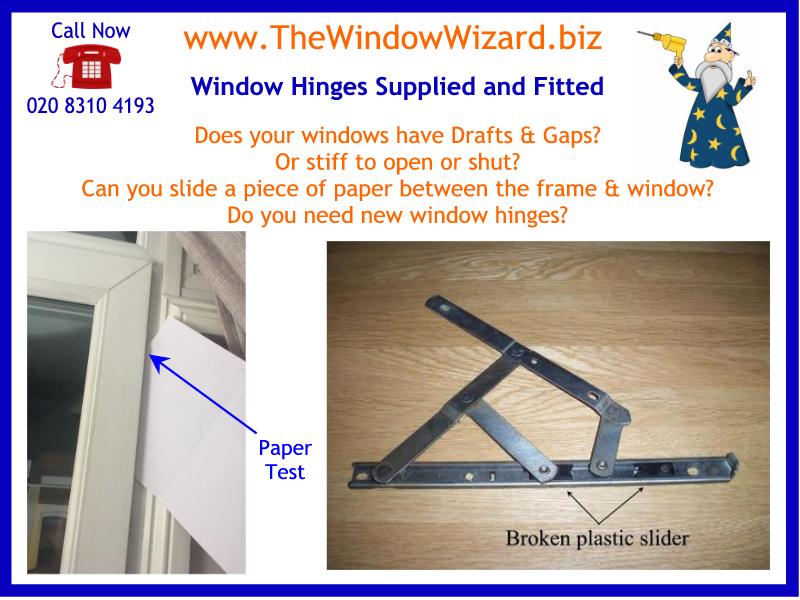 Service Type
UPVC double glazed window hinges supplied and fitted
Provider Name
The Window Wizard
,
The Quadrant
,
Bexleyheath
,
Kent
-
DA7
,
Telephone No.020 8310 4193
Area covered
Bexleyheath, Dartford, Crayford, Swanley, Welling, Wilmington, Thamesmead, Sidcup, Erith
Description
UPVC window hinge replacement. We carry all the different typed of Window hinge sizes, lengths, stack heights and track widths in the van. So your double glazed window repair can be completed in one visit. When it comes to repairing faulty double glazing. it doesn't mean you have to replace the whole window. You can save money by changing just the faulty handles, mechanisms, gearboxes, broken locks or damaged hinges.