Wobbly Door Handles
Do you have loose or wobbly door handles? Floppy handles can be the first sign that there may be a problem with your door alignment. As a specialist technician in Double Glazing Repairs, call now for a friendly chat on 0208 310 4193.
After sometime with ware & tear, UPVC door handles can become Stiff, Loose or Wobbly. Furthermore, wobbly door handles can be caused by a dropped door, damaged handles, broken springs or a problem with the multi-point locking system.
Don't panic as it is rare for the door handle to fall off and moreover you won't need a new door.
There are two main causes for this problem:
Worn handle due to age and usage
Damaged handle due to stiff operation of the door/lock
For cause (1) replacement handles are all that is required.
For cause (2) replacement handles plus door/lock adjustments are required.
With this in mind, if your door handle is stiff to operate or loose/wobbly? Then it is worth getting it fixed before more damage is caused, saving you money in the long run. Your multi-point locking system are prone to jamming or breaking, if the handle is stiff.
Please Click here to read about
Double Glazed UPVC Door Handle won't Lift to Lock
Is your door handle jammed? Furthermore are you wondering why your UPVC door handle won't lift to lock? For an experienced reparation service that can correct this issue, choose The Window Wizard. I am is a specialist in the technical side of Double Glazing repairs.
UPVC door handle locks can be affected by many different issues, such as incorrect alignment of the door. I am aware of what it can take to analyse and repair these issues and confident, I can deliver a professional repair service.
Upon inspection I will be able to immediately diagnose the door problem. Ranging from a dropped door, a broken multi-point lock or a worn door handle. As The Window Wizard is a double glazed repair only company, we will have the parts to fix the issue. Most repairs are carried out within the first appointment, as I have all the necessary tools and components to repair.
How to test your stiff, loose or wobbly door handle:
Is your door handle is stiff to operate when the door is shut but smooth when the door is open then you have a problem, please give me a call.
If your door is stiff to shut, latch or double lock and you need to force the handles up, this could indicate that your door needs to be adjusted and serviced. Don't wait until your door handle breaks off or worst still, the multi-point locking system breaks thus locking you in or out!
Please call David on 0208 310 4193 0r 079 5058 2631 to repair or replace your floppy, loose, wobbly door handles
Please note; door alignment issues are not always due to the hinges. It could be that your UPVC double glazed door requires being toe and heeled.
Wobbly door handle springs
Some locking systems use springs inside the multi-point locking systems, additionally others use springs inside the door handles. Are your springs worn or broken inside your wobbly door handles? The springs can often be replaced but not all handles have replaceable spring sets. Unfortunately, if your style of the handle does not have replaceable springs. Then your only option would be to replace the door handle set or lock.
We stock most common size door handles. We can supply and fit White, Chrome, Gold, Silver and Black handles, for your UPVC Front & Back doors, French doors and Patio doors. Therefore if your wobbly door handles do not have springs, this could mean that your multi-point locking system will need servicing or replacing.
Types of door handles available
There are 100's of different door handles and variations due to:
Sizes, Models, Types, Colours
Lever/ lever, Lever/Pad, Lever/Offset, Lever/Pull & Fixed
Screw fixing amounts and positions
Keyhole positions & Screw hole positions
Spindle size and Handing
Backplate length, width & thickness
Sprung & Un-Sprung
Most importantly the quality of the handles
I receive many phone calls from customers who have fitted their own replacement door handles. However, due to the 100's of handles available they bought the wrong door handles. Unfortunately, when the customer or builder has fitted the incorrect handle they had drilled through the multi-point locking system, consequently damaging the lock beyond repair.
David your Local Double Glazing Door Lock Repair Specialist
I have been dealing with all manner of door handle and lock issues for many years. Therefore seeing many different issues and tackling them with my technical know-how. Equally important I am the soul Double glazing Repairman of the Window Wizard. Furthermore, I have over 25+ years of experience, which we're confident will show with our service for your home.
As a local family business, with my wife Clare. We are sure we can provide your repair personally and pay close attention to your lock and handle issues.
Don't hesitate to contact us today and book for your UPVC door handle and lock repair.
If you would like to hire our services, or simply find out more about the work we can provide for your home?
Please feel free to call for a friendly chat to discuss your problem with your door handle won't lift to lock, on 0208310419
Alternatively, you may prefer to contact us via email info@thewindowwizard.biz. Myself or Clare, will respond to your email as soon as possible.
Call now, your local UPVC specialist. Expertise and knowledge to supply and fit the correct parts for all your double glazing repairs.
Please Click here for further information on UPVC door lock problems.
Summary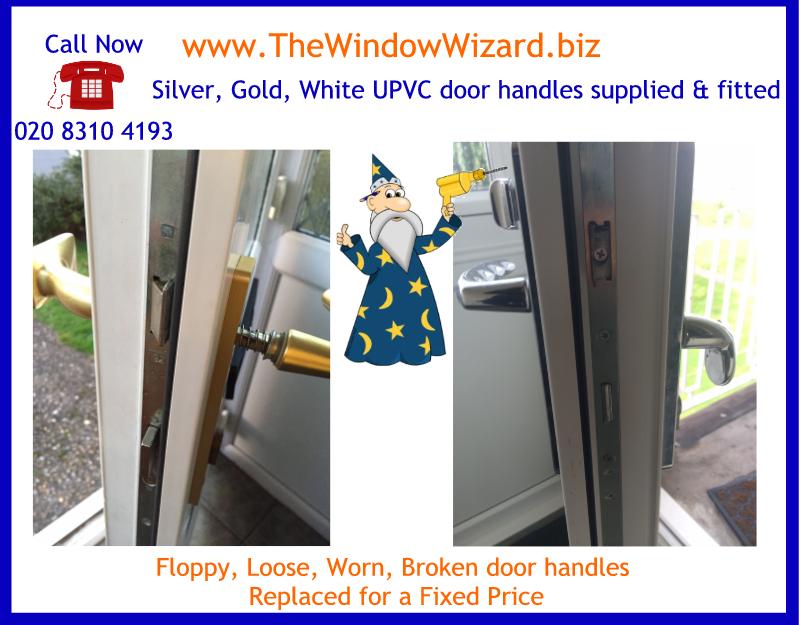 Service Type
Wobbly or Broken UPVC door handles supplied and fitted
Provider Name
The Window Wizard
,
The Quadrant
,
Bexleyheath
,
Kent
-
DA7
,
Telephone No.020 8310 4193
Area covered
Bexleyheath, Dartford, Crayford, Swanley, Welling, Wilmington, Thamesmead, Sidcup, Erith
Description
UPVC Wobbly door handles can be caused by a dropped door, damaged handles, broken springs or a problem with the multi-point locking system. We stock most common size door handles. We can supply and fit White, Chrome, Gold, Silver and Black handles, for your UPVC Front & Back doors, French doors and Patio doors.