Areas covered by The Window Wizard double glazing repair service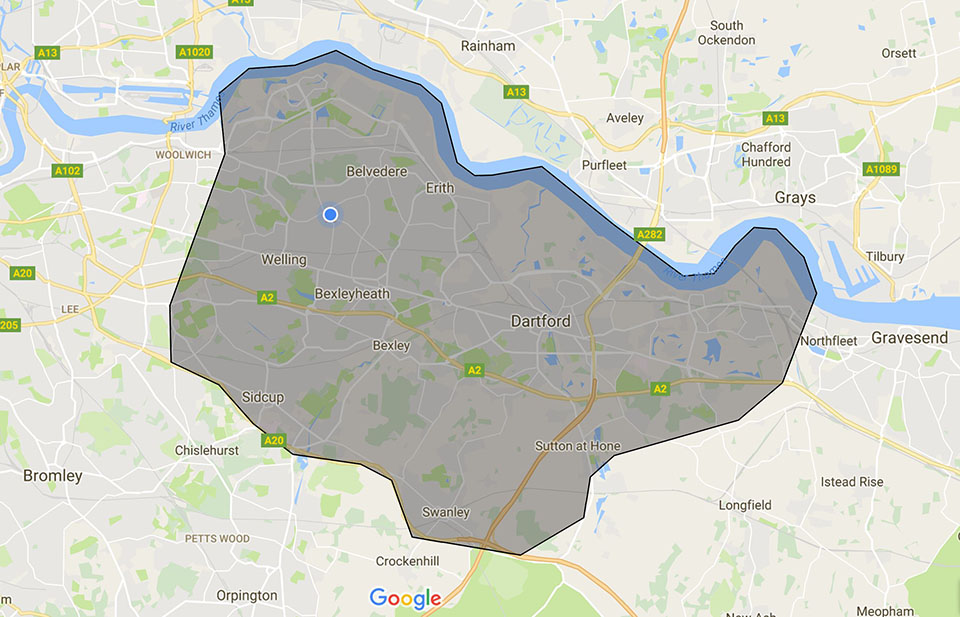 Does The Window Wizard cover your area for UPVC window and door repairs?
The Window Wizard carry out double glazing repairs Bexleyheath, Door repairs, window repairs & lock repairs to the following areas:
Abbey Wood, Albany Park, Barnehurst, Bean, Bexley, Bexleyheath, Belvedere, Blackfen, Bluewater, Bursted Wood, Crayford, Crockenhill, Darenth, Dartford, Eltham, Erith, Falconwood, Foots cray, Greenhithe, Hawley, Hextable, Horton Kirby, Kidbrooke, Mottingham, New Eltham, Northumberland Heath, Plumstead, Sidcup, Slade Green, Stone, Sutton at Hone, Swanley, Swanscombe, Thamesmead, Welling, Wilmington.
We are able to provide our services in the following postcode areas:
DA1 DA2 DA5 DA6 DA7 DA8 DA9 DA10 DA14 DA15 DA16 DA17 DA18 SE2 SE9 SE28 BR8
Why does The Window Wizard not cover a larger area?
We are based in Bexleyheath, Kent offering our services over an approximate 6 mile radius. We have decided to limit our coverage area to keep our costs to a minimum therefore, giving our customer's the best value and being able to keep accurate appointment slots.
The Window Wizard is a registered Trade Mark since 2004, owned by us and the company is not part of any franchise therefore, if you come across another company trading as The Window Wizard or confusingly similar then they are unlawfully infringing upon our TM (UK00002372228).
About The Window Wizard
The Window Wizard is a family run business, you will always deal with David or Clare, giving you peace of mind and a personal service.
When you call The Window Wizard either David or Clare (David's Wife) will answer the phone and most times be able to give you a fixed price for your repair and an accurate appointment slot.
We are a small company offering a long established double glazing window and door repair service, who have built up a reputation for reliability, quality and service at affordable rates.
We offer a Double Glazing Repair ONLY Service as The Window Wizard does NOT install Double Glazing, we carry all the parts in our van.
The high regard with which the business is held by our customer's is a true reflection on the reliability, quality and service we offer.
Because The Window Wizard only offers a repair service, it is in both the customer's and our interest to repair your existing double glazing. Only after we have exhausted all options and a repair is just not possible, we would then advise our customer to find a reputable installer to replace their double glazing.
We try our upmost to source the rarest parts striving to repair windows and doors that others say cannot be fixed.
Customer's peace of mind for your double glazing repairs
Fully qualified and specialist in multi-point door locks and window mechanisms.
We use dust sheets to protect customer's floor coverings.
We are covered by a Two Million Pound Public Liability Insurance policy.
We can give fixed prices over the phone "we price the job and not the person".
We DO NOT install new double glazing, so we will NOT try to sell you any!
Most customers are NOT VAT registered therefore will benefit from the fact that, The Window Wizard is not a VAT registered company (So we don't charge VAT)
Accurate appointment slots given and kept.
Because David is the only technician, you will always have the same person carry out the repairs.
The Window Wizard van is always kept fully stocked with repair parts, so most repairs are carried out in one visit.
The Window Wizard carry out double glazing repairs Bexleyheath, Door repairs, and Window repairs to the following areas:
Abbey Wood, Albany Park, Barnehurst, Bean, Bexley, Bexleyheath, Belvedere, Blackfen, Bluewater, Bursted Wood, Crayford, Crockenhill, Darenth, Dartford, Eltham, Erith, Falconwood, Foots cray, Greenhithe, Hawley, Hextable, Horton Kirby, Kidbrooke, Mottingham, New Eltham, Northumberland Heath, Sidcup, Slade Green, Stone, Sutton at Hone, Swanley, Swanscombe, Thamesmead, Welling, Wilmington.
We are able to provide our services in the following postcode areas:
DA1 DA2 DA5 DA6 DA7 DA8 DA9 DA10 DA14 DA15 DA16 DA17 DA18 SE2 SE9 SE28 BR8
Home Page, Contact Us, About Us, Our Services, Areas Covered, Customer Reviews, Leave a Customer Review, FAQ, Advice Pages, Sitemap, Door Lock Repair Service, The Window Wizard Details, Window & Door Home Insurance Requirements, Advertising in Yellow Pages, UPVC Door Restrictors and Window Child Catches, Yell.com Customer Reviews, Google Customer Reviews, The Window Wizard Customer reviews, Discontinued Window and Door Parts, Before and After Pictures, Tilt & Turn Windows, Areas Covered, Trade Windows, Hot Weather Affecting Doors and Windows, Stone from Lawnmower Breaks Glass, Double Glazing Condensation Problems, Upgrade Your UPVC Handles, Double Glazing Extra Security, Locking Window Handles, UPVC Door Panels, Different Ways To Contact The Window Wizard, Leaks, Gaps & Drafts, Door Lock Change, Thumb Turn Door Lock, Floppy UPVC Door Handle, Window Hinges, Double Glazing Maintenance Tips, Gaps in Double Glazing, Broken or Lost Window Keys, Sutton Windows, More About Us, Double Glazing Repair Questions, Discontinued Double Glazing Parts, Conservatory Door and Lock Repairs, The Window Wizard Registered Trade Mark, Double Glazing Hot Weather Problems, Window Hinge Slider Broken, DG Condensation Problems, Double Glazed Door Problems, UPVC Multi Point Door Locking Mechanism, UPVC Maintenance Tips, P J Plastics, The Window Wizard Hours Of Business, How To Lock Your UPVC Door, Window Scrappage Scheme, Double Glazing Door Lock Repair, The Window Wizard Van, Crime Prevention, Door & Window Company Gone Bust